VIA APPIA DUE – feel-good fashion for curvy women
From Erlangen into the big wide world. VIA APPIA DUE is one of the four brands from VIA APPIA Mode, which can compete with the best fashion houses in the world. The company, founded in 1980, delights women in 14 countries and 2,400 sales outlets with its exclusive feminine fashion. Renowned design teams work on modern collections in which women feel comfortable. Always expressive, always stylish: those who wear VIA APPIA DUE rely on trendy colours, outstanding quality and perfectly fitting cuts that flatter curvy figures. Any woman who feels comfortable in what she's wearing will look beautiful and self-confident. Of this, the designers at VIA APPIA DUE are convinced. VIA APPIA DUE fashion is full of dynamics and energy. Knits and tops are the icing on the cake of the collections and are still popular bestsellers today. The designers are breaking new ground with exciting jackets and blouses as well as comfortable trousers and dresses – inspired by travels through the world's fashion capitals. Current trends are interpreted in a stylish way and create key fashion pieces for curvy women with figure-flattering cuts and a perfect fit that will make you look your best. Fashion from VIA APPIA DUE is also all about refined details, original design ideas, exclusive materials and unique prints.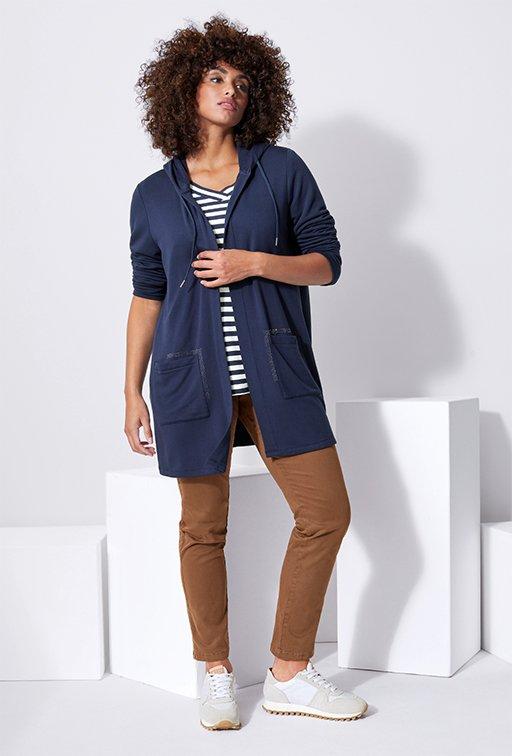 Whether it's trendy fashion statements or timeless basics – VIA APPIA DUE shows its creativity not only in design, but also in the fight for better sustainability and environmental protection in the fashion industry. The company relies on innovative eco-materials such as ECOVERO VISCOSE BY LENZING™ and ORGANIC COTTON. Most of the VIA APPIA DUE collections are manufactured in accordance with the low-emission OEKO-TEX-100 standard. What's more, in order to meet their responsibility for animal welfare VIA APPIA DUE doesn't use any angora, fur or down. This is how sustainable fashion works today. Discover expressive designs for self-confident women who love their curves. Fashion with an air of casual elegance that carries you confidently and without compromise through everyday life.