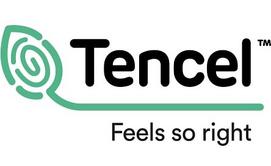 The unique properties of TENCEL™ fibres are immediately noticeable: skin-friendly and soft to the touch, with excellent breathability. The unique physical properties are what make TENCEL™ so popular: textiles made of TENCEL™ are more absorbent than cotton, softer than silk and cooler than linen.
The TENCEL™ product family combines 2 different types of fibre, which give every garment the best product features:
1. Lyocell
The sustainable TENCEL™ lyocell fibre is manufactured using a special process. As with viscose, the raw material is derived from wood. The cellulose contained within it is extracted and processed into a fibre, which means it is of natural origin from sustainable forestry. Moreover, the fibre production is particularly environmentally friendly due to the closed circuit method.
Using a process developed by Lenzing, more than 99% of the solvent used in a closed cycle is recovered and fed back to the production process again and again. The same applies to the water used, which is also always recycled in a closed system. These two closed circuits are the reason for the extremely low emissions during lyocell production.
2. Modal
TENCEL™ modal is produced from the natural raw material beech using a unique process at the specialist works in Lenzing, Austria. The fibre is particularly soft and skin-friendly while at the same time exhibits unique and brilliant colours.
The fibre is produced using a symbiotic process. This means that the raw material pulp is produced in the same location as the modal fibre itself. This makes it efficient in terms of energy and resource consumption.
The lasting softness factor, combined with its high absorbency, gives the fibre excellent properties and also makes it an ideal blending partner for cotton.