STANDARD 100 by OEKO-TEX®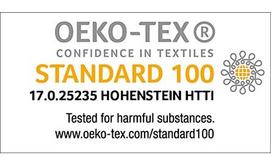 The human ecology credentials of our products are guaranteed by STANDARD 100 by OEKO-TEX®
Introduced in 1992, the STANDARD 100 by OEKO-TEX® is a recognized certification system. It is the most widely used label worldwide and governs all sorts of textile products that have been tested for harmful substances. Approximately 10,000 manufacturers in nearly 100 countries are certified by the Oeko-Tex STANDARD 100 certification (as of April 2017).
STANDARD 100 by OEKO-TEX® applies to raw, semi-finished and finished textile products at all stages of processing. STANDARD 100 by OEKO-TEX® also covers ancillary materials used. Textile products are tested for several hundred regulated individual substances from 17 pollutant classes. The standard takes into account regulated substances or those prohibited by law, such as banned azo colourants, formaldehyde or nickel. It goes further and tests for the use of substances known to be hazardous to health or that are environmentally detrimental, even if they are not yet legally regulated. As a result the test criteria and the limit values in many cases clearly go beyond national and international standards.
Regular product inspections in the market look for compliance with STANDARD 100 by OEKO-TEX® and thus contribute to high product safety. The laboratory tests are carried out by independent testing institutes, and are based on a comprehensive list of criteria. This list is updated annually to ensure effective consumer protection.
According to the German Federal Association of Consumer Initiative STANDARD 100 by OEKO-TEX® receives an overall rating of "Recommended". It is an important certification that contributes to the production of textiles that are less harmful to the environment.