Shop smarter - with the PETER HAHN app. Clear, simple, quick.
Men's fashion service
Perfectly fitting fashion and supreme comfort – these are the basic principles at PETER HAHN.
Depending on the garment you should take different measurements. Our size chart and the graphs below will help you and tell you which areas of the body you need to measure. To measure correctly, it is best to let someone help you. Stand upright but relaxed. The measuring tape should lie loosely against the body without cutting in.
(Inch sizes jeans)
To find your perfect size for jeans, please compare your measured waist width with our inch table. Then measure your inside leg length and also compare this with the inch table. This way you will get your correct inch size for jeans.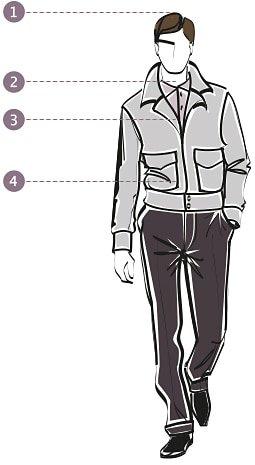 1

Height

Stand in bare feet, on a firm floor, with your heels and buttocks against a wall, and measure from the top of your head to the bottom of your heel.
2

Collar size

Measure loosely around your neck below the Adam's apple. When measuring, hold the tape loosely around your neck and place a finger under it. The measurement in inches cor responds to the shirt size you should order.
3

Chest measurement

Measure around the widest part of the back, straight across the fullest part of the chest.
4

Waist measurement

Measure with the tape held horizontally around the waist.
Lengths
Lengths for tops (jackets, coats, knitwear) correspond to the back length measured from the neckline to the hem.
Men's sizes regular (tops and suits)
Size
Height in cm
Height in ins.
Chest
measurement
in cm
Chest
measurement
in ins.
Waist
measurement
in cm
Waist
measurement
in ins.
36
168-173
5' 6"–5' 8"
90-93
35-36
78-81
31-32
38
171-176
5' 6"–5' 8"
94-97
37-38
82-85
32-33
40
174-179
5' 8"–5' 10"
98-101
39-40
86-89
34-35
42
177-182
5' 9"–5' 11"
102-105
40-41
90-94
36-37
44
180-184
5' 10"–6'
106-109
42-43
95-99
38-39
46
182-186
5' 11"–6' 1"
110-113
43-44
100-104
40-41
48
184-188
6–6' 2"
114-117
45-46
105-109
42-43
50
185-189
6' 1"–6' 3"
118-121
46-47
110-114
44-45
Men's sizes regular (trousers)
Regular Size
Height in cm

Height in ins.
Waist measurement


in cm

Waist measurement


in ins.

30
168-173
5' 6"–5' 8"
78-81
31-32
32
171-176
5' 7"–5' 9"
82-85
32-33
34
174-179
5' 9"–5' 10"
86-89
34-35
36
177-182
5' 10"–5' 12"
90-94
36-37
38
180-184
5' 11"–6'
95-99
38-39
40
182-186
5' 12"–6' 1"
100-104
40-41
42
184-188
6' –6' 2"
105-109
42-43
44
185-189
6' 1"–6' 2"
110-114
44-45
Men's sizes short (trousers)
Order Size
Height in cm
Height in ins.
Waist measurement
in cm

Waist measurement
in ins.

34S
166–170
5' 5"–5' 7"
86–89
34–35
36S
169–173
5' 7"–5' 8"
90–93
35–37
38S
172–176
5' 8"–5' 9"
94–97
37–38
40S
175–178
5' 9"–5' 10"
98–101
39–40
42S
177–180
5' 10"–5' 11"
102–107
40–42
44S
179–182
5' 10"–5' 12"
108–111
43–44
46S
181–183
5' 11"–6'
112–116
44–46
Men's trouser inside leg measurements - All waist sizes
| Regular cm | Regular ins | Short cm | Short ins |
| --- | --- | --- | --- |
| 81 | 32 | 76 | 30 |
Underwear
| Order size | =^ size |
| --- | --- |
| 4 | 31 |
| 5 | 32 |
| 6 | 34 |
| 7 | 36 |
| 8 | 38 |
| 9 | 40 |
| 10 | 42 |
Shirts
Measure around the neck: inches = shirt size