SEIDENSTICKER – the one with the black rose
For more than 100 years, SEIDENSTICKER has been one of the most renowned shirt and blouse manufacturers in Europe. The brand was founded in Germany in 1919. Nowadays it's still family-run and has become a real institution. If you are looking for high-quality shirts, blouses and knitwear that will make you look elegant and timeless, SEIDENSTICKER is really the only one to choose. Because in every fibre, in every meticulously processed detail, you can feel what makes fashion by SEIDENSTICKER so successful: its high quality, perfect fits, detailed cuts and the variety of colours and patterns.
SEIDENSTICKER blouses have unique charisma. From the uncomplicated, easy-care business blouse to the urban chic, feminine shirt-blouse, the designers at SEIDENSTICKER have always skilfully combined the present day with classic tradition. SEIDENSTICKER fashion does not submit to trends. Rather, the classic designs with their understated elegance cleverly focus on the wearers. Whether it's for business, special occasions or leisure – the blouses, shirt-blouses and tunics from SEIDENSTICKER are always a stylish choice.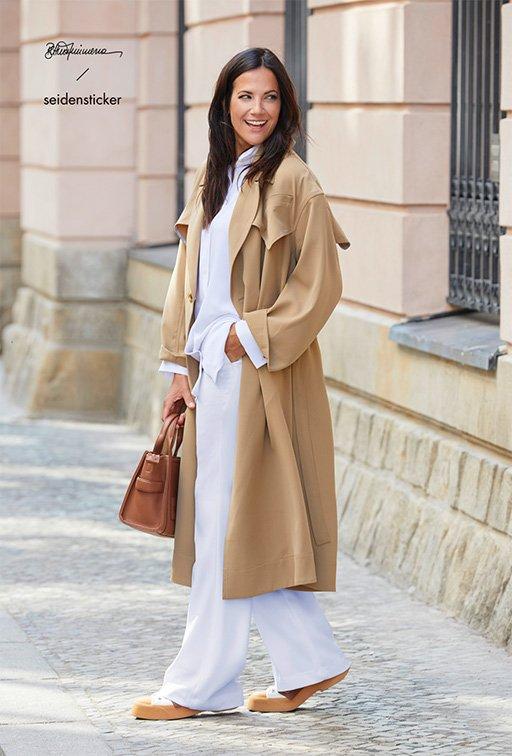 Social, ecological and societal responsibility has been a corporate purpose and obligation at the same time for over 100 years. Sustainability is firmly anchored in the structures of SEIDENSTICKER and has been at the heart of the business for generations. From 2023, the brand will only use organic cotton for its shirts and blouses, and the proportion of recycled materials used should be 30% by then. This will impact almost the entire collection, as most blouses and shirts are already made from pure cotton.