Shop smarter - with the PETER HAHN app. Clear, simple, quick.
Responsible Down Standard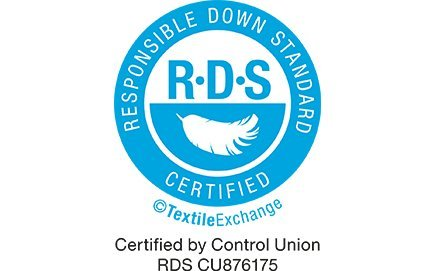 Sustainable down and feathers
The Responsible Down Standard (RDS) guarantees ducks and geese a comfortable, pain-free life. Farms that keep ducks and geese and produce RDS-certified down must comply with numerous rules to protect the animals and nature. In principle, their ducks and geese must be kept in a manner that is species-appropriate and close to nature. This includes specifications for feed and water supply, sufficient living space and clean shelters. Cruel practices in which animals are plucked alive or force-fed (stuffed) are strictly prohibited. Only then do farms receive the coveted RDS seal for feathers and down from an independent certification body and which is only valid for a period of 14 months. After that, they have to prove again that they act in accordance with the specifications of the RDS.
The strict guidelines of the Responsible Down Standard apply to the entire production chain and regulate the protection of ducks and geese from egg to slaughter. This also includes keeping a clear record along the supply chain that assigns down and feathers to the appropriate farms – this creates transparency and trust. This way we know that in the end only 100% high-quality and RDS-certified feathers and down have been used for this item – in line with our understanding of sustainability. And you can enjoy feather-soft, cosy and yet sustainable down and enjoy our fashion with a clear conscience.