RAFFAELLO ROSSI – That's Family Business
It all began when Ralf Schellenberger, the son of a clothing technician, made the decision to take over his parents' business. Fascinated by the textile industry, he found the right partner in Brigitte Schellenberger, whom he met while studying to become a clothing technician, and founded the RAFFAELLO ROSSI brand in 1996. The brand quickly became synonymous for women's trousers in the premium segment which offered the perfect fit and first-class quality. The brand mission of RAFFAELLO ROSSI is consistent, demanding and sustainable: Italian style and current trends combined with the highest level of expertise and excellent workmanship.
RAFFAELLO ROSSI stands for creative prints and elaborate denim washes, inspired by the aesthetics of different cultures. Asian prints, brightly coloured prints, opulent ornamentation as well as flower and animal prints showcase the brand's diversity. Trousers and jeans from RAFFAELLO ROSSI come in a first-class cut and promise a comfortable, superior fit. This is ensured by innovative, highly stretchy quality fabrics that the young brand sources from Italy. At RAFFAELLO ROSSI, every woman can find the right pair of trousers for every style and occasion – and feel fantastic all day long.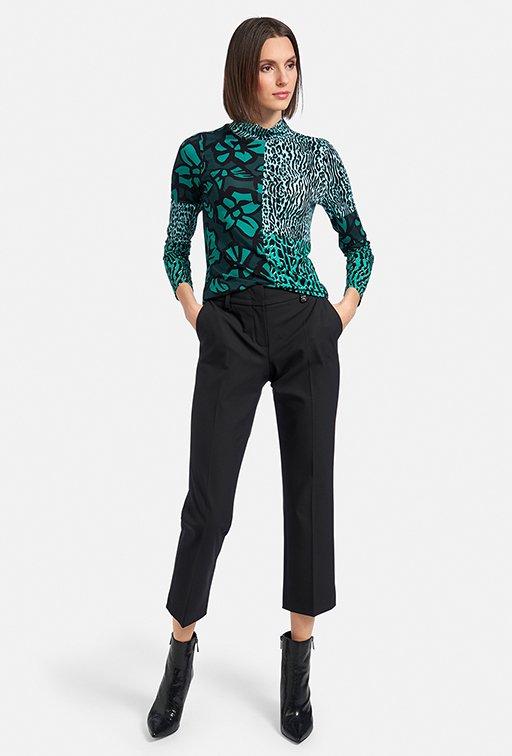 RAFFAELLO ROSSI trousers and jeans are produced in Europe. This guarantees short transport routes as well as fair wages and social standards. In addition, the company uses organic cotton and sustainable viscose from ECOVERO™ LENZING™. In order to offset its ecological footprint, RAFFAELLO ROSSI supports reforestation projects and promotes the cultivation of local orchards. Responsibility, honesty, innovation, success, appreciation and sustainability – these are the values of the RAFFAELLO ROSSI brand. All of this can be felt in every single pair of trousers. Discover the excellent quality and fit of trousers made to inspire.