Premium Pima Cotton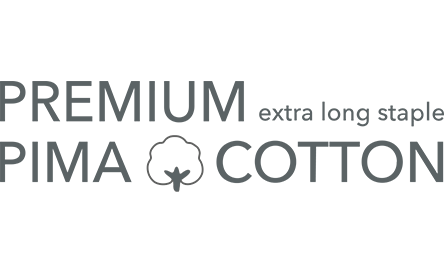 The special cotton
Pima cotton is something very special – incomparably soft and very durable. Pima cotton owes this to the unusually long cotton fibres. They make the fabric robust and ensure a very delicate feeling against the skin.
Ecological and sustainable
Environmentally friendly and sustainable – this is how our premium Pima cotton is grown and processed into yarn. This is achieved by a well thought-out, innovative concept: Even the seeds are free of genetic modification and the cultivation of the cotton employs several environmentally friendly methods. The irrigation of the cotton plants is technologically and precisely planned and is done on an "as-required" basis so as not to waste a drop of treated water. Compared to conventional cultivation, this method reduces the amount of water required by up to 80%. In addition, the amount of fertiliser used is strictly reduced – this means that up to 50% fewer chemical fertilisers are used in the cotton field.
We source our selected premium Pima cotton yarn from our specialist spinning mill in Greece. There, the further processing of the cotton focuses on the efficient use of energy.
This is how our very special premium Pima cotton is created, which combines quality and sustainability in a wonderful way. Good for the skin and good for the environment.