GOTS – organic natural fibres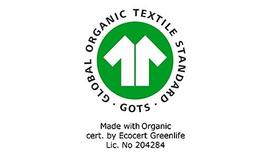 Sustainable, ecological and fair: this product has been awarded the GOTS seal of approval. GOTS stands for "Global Organic Textile Standard". This internationally recognised textile standard for natural fibres from certified biological origins is associated with particularly stringent requirements – from the cultivation of the raw materials to the processing and delivery of the finished garments.
Each phase of the manufacturing process is regularly monitored by independent bodies. Decent working conditions and the sustainable production and processing of raw materials are checked. Organic fertilisation, natural pest control, avoidance of pesticides and use of environmentally friendly dyes are not only good for the environment, but make for a real feel-good factor.
Therefore, wear this natural and GOTS certified product with a good conscience because it was made in harmony with man and nature.