Shop smarter - with the PETER HAHN app. Clear, simple, quick.
GOTS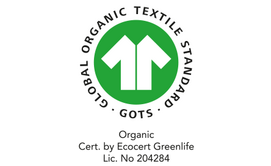 The Global Organic Textile Standard (GOTS) is recognised as the world's leading standard for the processing of textiles made from organically produced natural fibres. It defines environmental requirements at a high level along the entire textile production chain and at the same time requires compliance with social criteria.
Each phase of the manufacturing process is regularly inspected by independent bodies. Humane working conditions and the sustainable production and processing of raw materials are checked.