GOTS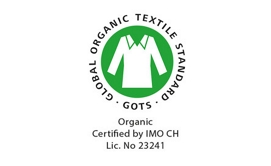 Sustainability – production
Environmental awareness has changed in recent years as many of us focus again on quality, regionality and sustainability.
With the PETER HAHN Green Cotton label we show this rediscovered awareness at its best because Green Cotton exclusively uses organic cotton, without chemical fertilizers or pesticides, for the production of its enchanting fashion, creating fashion with a clear conscience.
Environmental issues are tracked by certified control systems, however Green Cotton also has an eye on the social standards of its suppliers to ensure fair production conditions on the work site. For its environmentally friendly and overall sustainable philosophy, the company has already received several international awards and prizes.
We are particularly proud that since 2016 our own GREEN COTTON by PETER HAHN collection is certified by the Global Organic Textile Standard (GOTS - Organic Certified by IMO CH Lic. No 23241). GOTS is recognized worldwide as the highest standard for the processing of textiles from organically produced natural fibres. It defines high level criteria regarding social and environmental requirements, such as the use of textile auxiliaries, dyes and finishing agents along the textile production chain.