Good Cashmere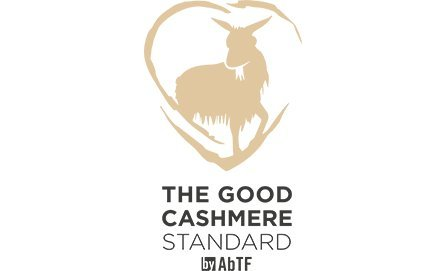 This label guarantees you are buying sustainably produced cashmere wool that has been certified according to the strict requirements of "The Good Cashmere Standard®" of the Aid by Trade Foundation (AbTF). The AbTF was founded in 2005 by Prof. Dr. Michael Otto. The independent standard aims to improve the welfare of cashmere goats, the working conditions of farmers and farm workers, and the environment in which they live.
Certified cashmere farms can vouch for the fact that no suffering is inflicted on their goats and that they are kept in a species-appropriate manner. Healthy goats provide the best cashmere wool. Fashion with the "THE GOOD CASHMERE STANDARD®" seal shows compliance with social criteria that benefit the workers by ensuring fair and safe working conditions on the farms. A win-win situation for all. Cashmere farms are inspected by an independent auditing company. Established criteria must be met by farmers and cashmere producers, and exclusion criteria must be observed. If this process is successfully completed, a certificate is awarded, which is reviewed annually.
Another benefit of the standard: every stage of the supply chain can be precisely traced. This is how we ensure that only certified cashmere wool finds its way into your new favourite cashmere piece. Our cashmere is thus produced more transparently, sustainably and in harmony with animal welfare.