Shop smarter - with the PETER HAHN app. Clear, simple, quick.
Faux fur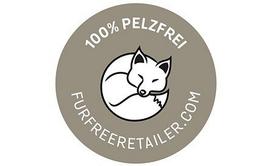 Faux fur - our contribution to animal welfare
At PETER HAHN we've deliberately refrained from using real fur for many years and that includes in the manufacture of this product. First, because we want to make an active contribution to animal welfare. Second, because artificial skins are of an excellent quality these days and are just as fashionable – the use of real fur therefore makes no sense.
High-quality faux furs look and feel almost the same as real fur and are therefore a real pleasure for anyone who wears them. It is of course important that you can rely on us and therefore we guarantee you that you will get only faux fur, also called "Fake Fur" from PETER HAHN.
In order to substantiate our consideration for ethics, we have been officially a "Fur Free Retailer" since 2016 - and thus part of an international initiative that already includes more than 800 companies.