Caregora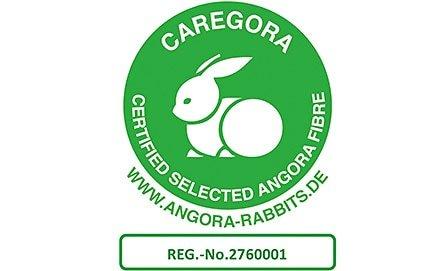 Why Caregora is the better Angora
The media has reported inappropriate animal husbandry. There were stories of abhorrent animal cruelty suffered during the production of meat or milk, for example. Unfortunately, similar abuse is also found in in some of the production of Angora wool. We at PETER HAHN cannot endorse this, nor can we reconcile it with our ethical values.
Therefore, we tread a different, better path. As such, PETER HAHN customers will only find Angora products which are supplied by the producer Medima. There is a good reason why we make an exception for Medima products.
Medima pays attention to the animal-friendly acquisition of the resource
Medima condemns the dubious practice of plucking rabbits to harvest Angora wool, because it is very painful for the animals. That is why Medima, verifiably, only shears the rabbits. Shearing occurs 3-4 times a year, either electrically or by hand, and is performed very gently. The rabbit does not feel any pain in the process. Additionally, a coat of hair of about 1 cm remains, so that the animal will not be cold, even in low temperatures.
Medima even goes a step further
Trust is good, ongoing supervision is better. For this reason, Medima has its Angora production rigorously inspected and certified (Certified Selected Angora Fibre REG.-No.2760001). The Angora breeding facilities, which provide the resources for Medima underwear, are even certified in accordance with the strict Animal Welfare Code of the British Ministry of Agriculture. As a result, the well-being of the animals is ensured and is beyond reproach. Hence the so-called Caregora™ is the first high-quality selected and certified Angora fibre. Caregora™ fulfils all criteria of a premium natural fibre combined with adherence to guidelines for animals' living conditions and welfare. As such, Caregora™ is a quality seal that respects a responsibly harvested natural resource, which is produced with consideration for international standards. The compliance with these standards is inspected and confirmed by UL (Underwriter Laboratories, an independent, globally operating inspection company).