Accessories
At PETER HAHN it is our goal to ensure that your clothes look good and have a perfect fit. The clothing in our catalogues are in UK sizes.
Determining your size: Here are some tips on how to measure yourself. Measure yourself in your underwear, standing in a relaxed position. Always keep the tape measure against your body.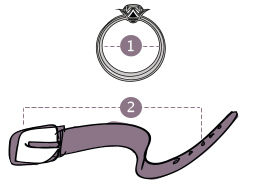 1

Rings

How to measure your sizes: Take one of your rings. Place this on a tape measure and measure the inside diameter (inside edge to inside edge).

The dimensions in mm give the size of the item. 10 mm = 2.54 ins.
2

Belts

Our belt sizes correspond to the actual belt length measured as shown below:
Women's belts
| Size in inches | Size in cm | Size |
| --- | --- | --- |
| 29" | 75" | 10-14 |
| 33" | 85 | 16-18 |
| 37" | 95 | 20-22 |
| 41" | 105 | 24-26 |
Men's belts
| Order size | Sizes in cm | Sizes |
| --- | --- | --- |
| 33 | 85 | 30/32 |
| 35 | 90 | 34 |
| 37 | 95 | 36 |
| 39 | 100 | 38 |
| 41 | 105 | 40 |
| 43 | 110 | 42 |
| 45 | 115 | 44 |